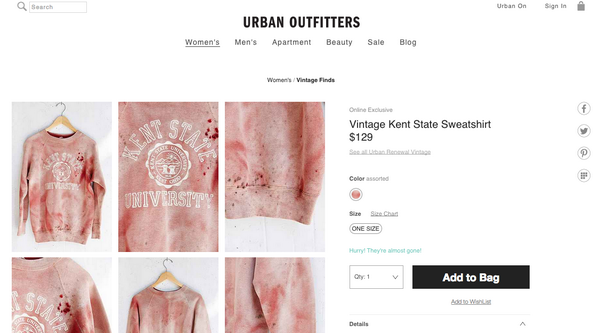 In 1970 four Kent State students were shot to death and nine more were wounded as the National Guard turned their guns on protestors. Forty-four years later, Urban Outfitters is monetizing the tragedy by selling a blood-stained hoodie complete with bullet holes.
Of course Urban Outfitters says the red stains and holes were simply an accident. Sure, an accident that the company photographed and posted on its site for sale for $125.
You can read about the controversy on Mashable and BuzzFeed so I'm not going to recount everything that has been said, but I want to make two points.
All Publicity is Good Publicity . . . unless we act
Has H&M benefitted from the fact that their clothing labels were found in the Rana Plaza disaster that killed 1,129 Bangladeshi garment workers?
Has American Apparel benefited from its ads depicting women as faceless sex objects all while having the King of Perves at the helm?
Hard to say. But I know that they will suffer the bad reputations they deserve if we choose to not give them our business. That's the nice thing about a free market: We have a choice. If we choose to support companies like this and they succeed maybe they aren't the problem, maybe we are.
Imagine the worker who made the holes
I've been to a factory in Cambodia where I witnessed young women using motorized grinders to put holes in perfectly good pairs of blue jeans. They would put a hole in the knee and then hold it up to the light as if asking themselves, "Will the Americans think this is a cool hole?" Holes aren't put in by a machine; they are put in by people. People who can think, "Why the hell would anyone want to wear a hoodie that looks like the wearer had been shot." I have no idea where these shirts were made, but I can guarantee the producers thought. "These people are nuts."
Kent State's response
Kent State University issued a statement condemning Urban Outfitters.
May 4, 1970, was a watershed moment for the country and especially the Kent State family. We lost four students that day while nine others were wounded and countless others were changed forever.

We take great offense to a company using our pain for their publicity and profit. This item is beyond poor taste and trivializes a loss of life that still hurts the Kent State community today.

We invite the leaders of this company as well as anyone who invested in this item to tour our May 4 Visitors Center, which opened two years ago, to gain perspective on what happened 44 years ago and apply its meaning to the future.
The reality